Steep Creek Skills presented by Liquidlogic is available now.
Join Shane Benedict as he provides the most in depth creek boating instructional video available today. Follow along team Liquidlogic as they make their way down the Green River Narrows breaking down each rapid and the techniques used to safely navigate them. The athletes in this video have over 2000 runs combined down the Green River Narrows. There is no other source like this available on the market today. As a bonus, whitewaterinstruction.com has completed the first virtual guide to the green, which is included in the extras. Every rapid every ledge every mile is covered on this double feature DVD.
Topics covered but not limited to:
Boofing
Dealing with Rocks
Precision
Paddle Awareness
How to Run Waterfalls
Escaping from Holes
Slides
Seal Launch
And much much more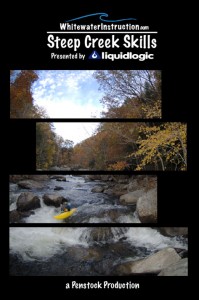 Whitewater Instruction Steep Creek Skills from Lunch Video Magazine on Vimeo.
This film is sold out on DVD.
This film, along with dozens of other paddling films , is available instantly at AMONGSTiT TV. Subscribe here.